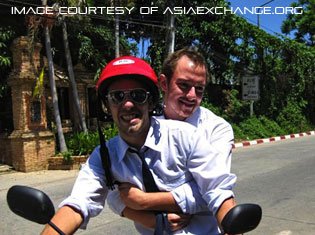 Education
Universities & Further Education
Prince of Songkla University - Phuket
Southern Thailand's first University the PSU (Prince of Songkla University) was founded in 1967. Its main campus is located to the south of Phuket on the mainland in Hat Yai with other satellites, as well as Phuket, in Pattani, Surat Thani and Trang. Ranking top against the one hundred and fifty other Universities in Thailand and second in th whole of S. E. Asia. Its base on the island is in the central district of Kathu and of the 3,500 students many are exchange students from across the world.
The stunning waterfalls, Hanuman zip wire thrills through the jungle and cable skiing provide local adventure but it is still a quiet area, ideal for students to absorb the atmosphere, learn and integrate into local Thai culture. Being central to the island all of Phuket's attractions are within easy reach whilst not being too close to provide too much of a distraction to study.
Accommodation can be provided by CyanSiam to suit your budget and Asia Exchange can handle all of your enquiries and arrange applications if you wish to further your education in paradise.
Asia Exchange
Study abroad in Asia with the help of Asia Exchange. Applying is easy and the program fees very affordable. A study semester in Asia can be the best experience of your life and will benefit your career. Asia Exchange can arrange your application and confirm to you within one week.